Leadership Learning Journeys
---
Corporate Education Group's Leadership Learning Journeys provide unique, collaborative learning experiences that mirror key aspects of the work environment. The combination of paired, small-group, and capstone team work facilitates "intersectional" learning, where leaders learn with, from, and about one another.
This environment fosters critical thinking and provides the opportunity to benefit from others' perspectives and experiences. Flexible and scalable in terms of program duration and delivery method, CEG's Leadership Learning Journeys are aligned with best practices in learning experience design (LXD) and are structured and paced in such a way to reflect the gradual unfolding of knowledge.
Customized Learning Journeys
Contact info@corpedgroup.com to learn more about the flexible nature of our learning journey approach and create a program that is tailored to your needs.
Learning Journeys
This highly interactive learning journey is designed for those at the start of their career path who want help developing both the skills and confidence to become a valued team member.
Learn More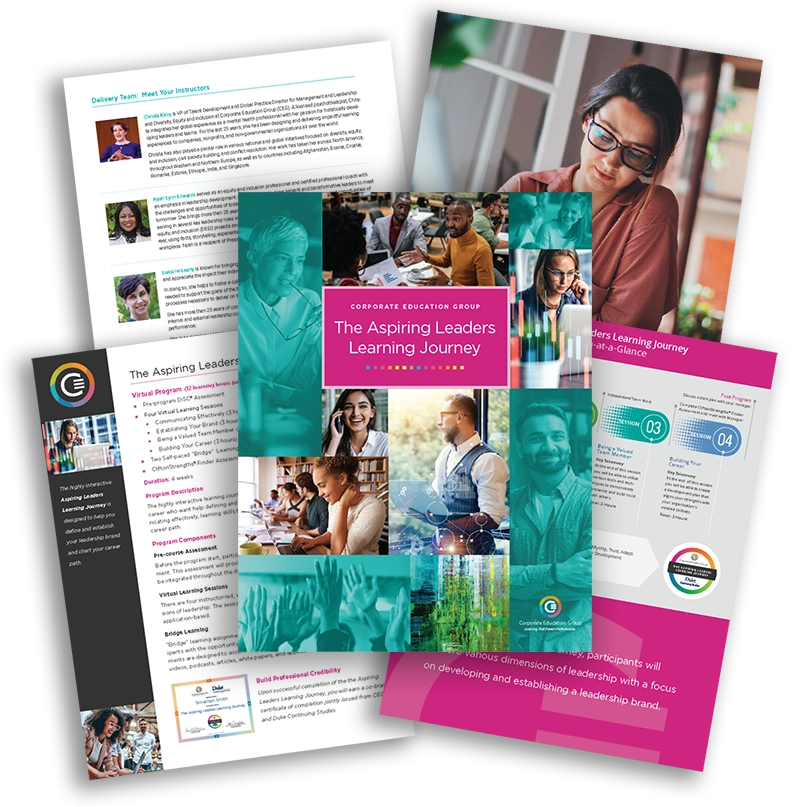 ---
Build the mindset and skill needed to successfully bridge the transition between individual contributor and manager or leader of people.
Learn More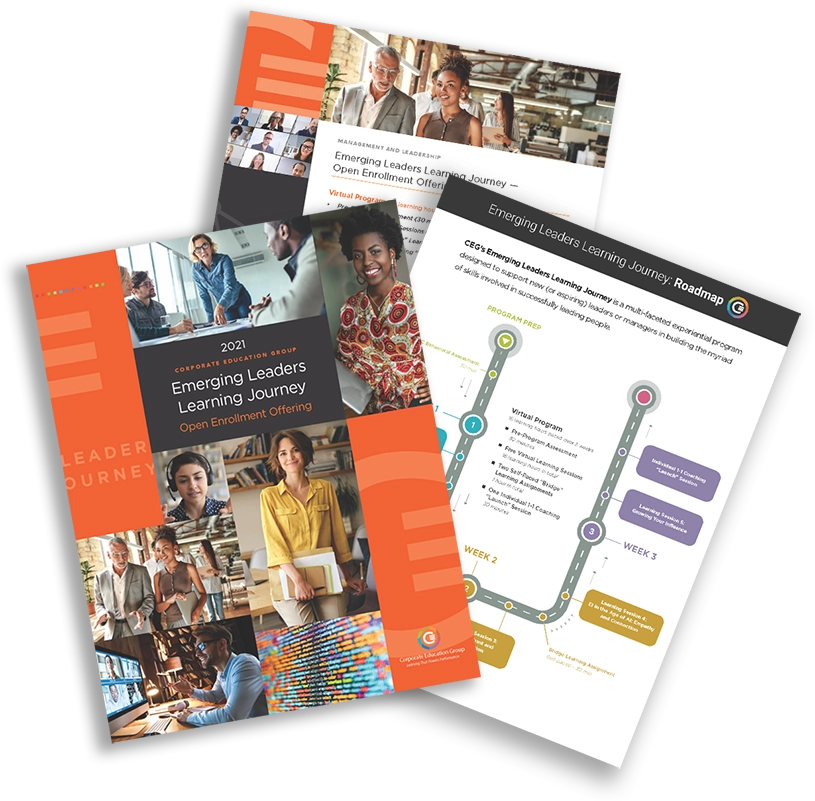 ---
Create and sustain work environments in which diverse perspectives, contributions, and talents flourish.
Learn More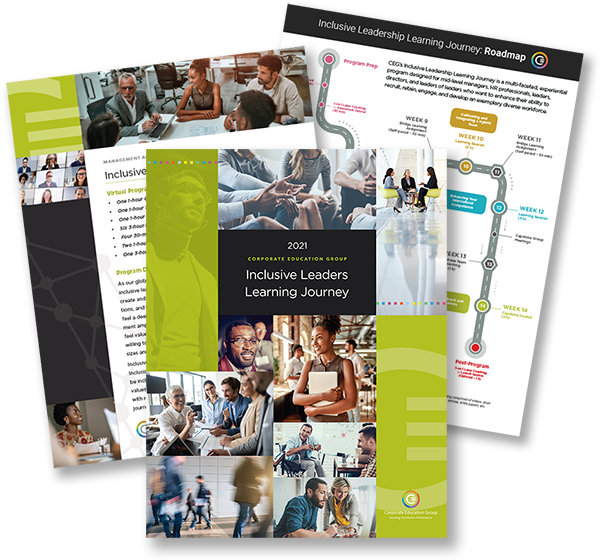 ---
Explore the landscape of diversity, equity, and inclusion (DE&I), with self-awareness and inquiry as a starting place.
Learn More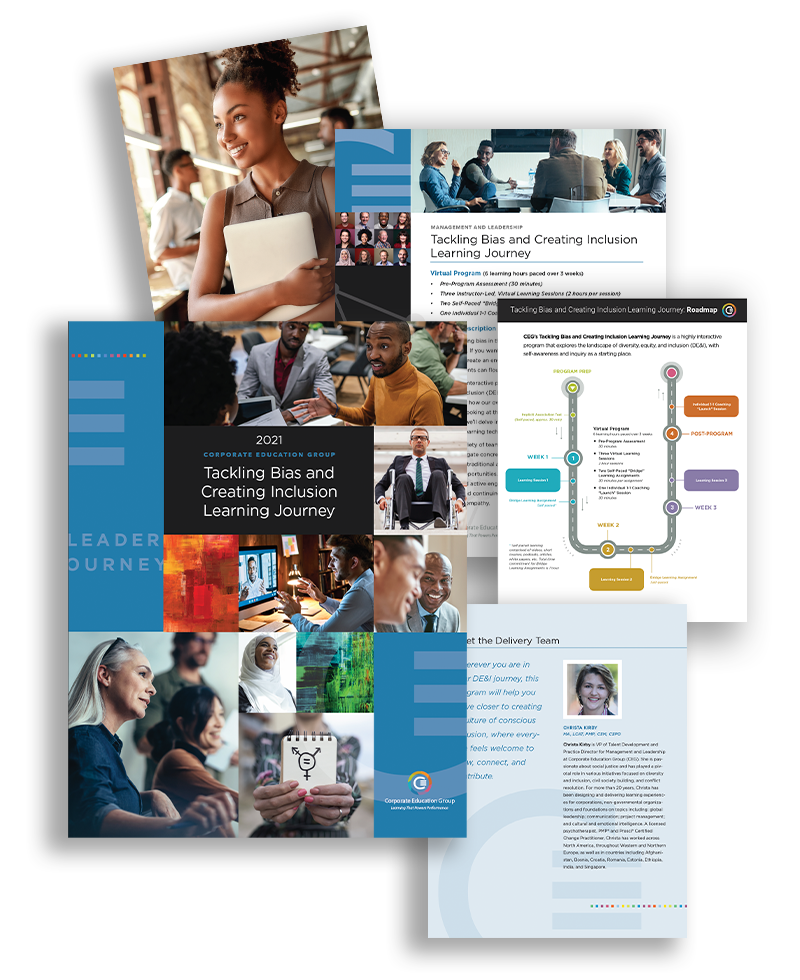 ---
The Women in Leadership Learning Journey is a highly-interactive program focused on building the mindset and skill set women need to be confident and successful in leadership roles.
Learn More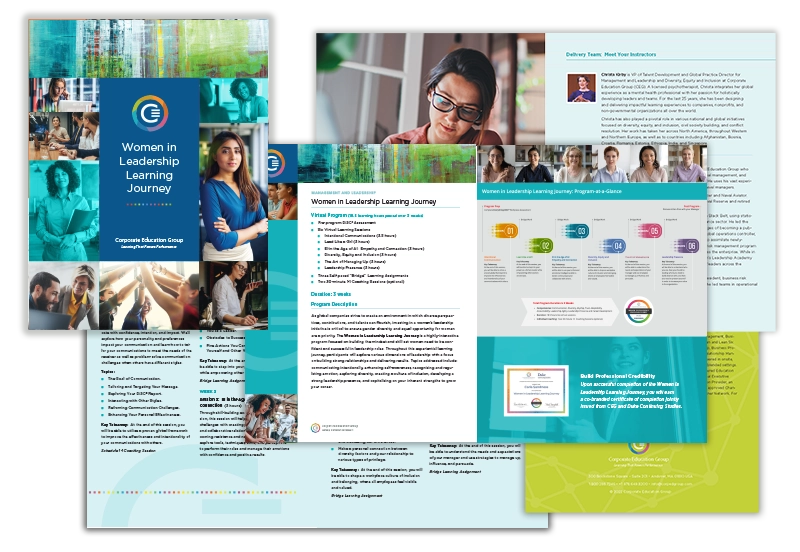 ---
This highly-interactive learning journey is laser focused on building the mindset, skill set and tool set that managers need to create a healthy and high-performing hybrid team culture — one that enables all team members to perform at their best, regardless of physical location.
Learn More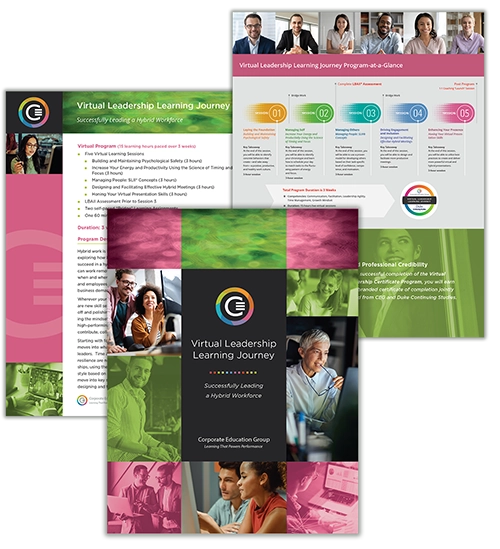 ---
The primary focus of the program is leadership that is centered on a basis of trust; thinking, and acting strategically; engaging in critical thinking; and using effective communication to foster innovation and facilitate organizational change, risk management, proactive planning and root cause analysis.
Learn More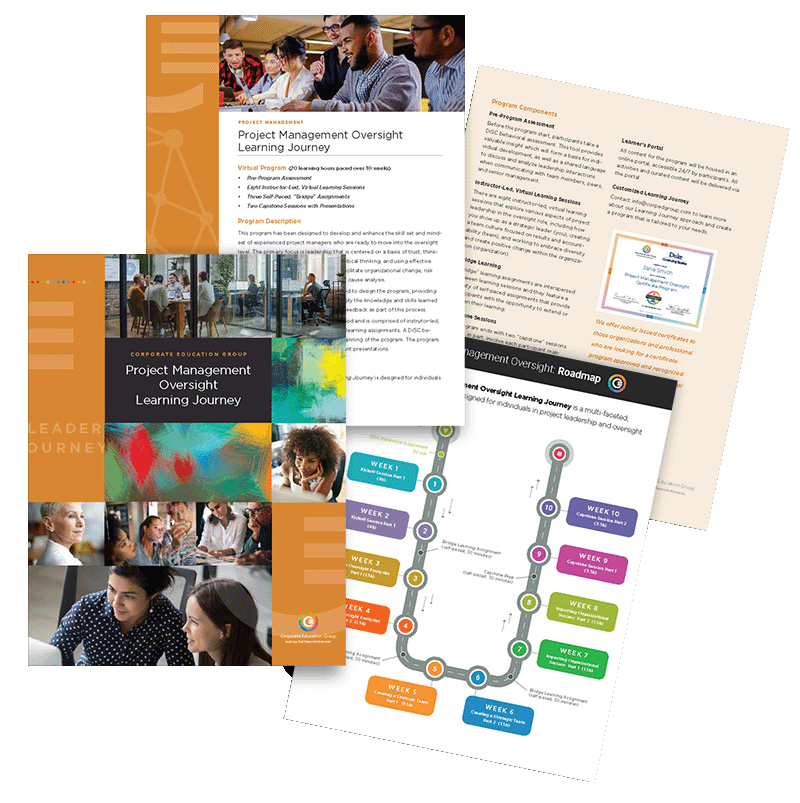 ---
Benefits of CEG's Leadership Learning Journeys
Feature diverse learning methods and channels, catering to a variety of learning styles and preferences.
Blend individual, paired, and small-group work to reinforce classroom learning.
Are flexible and can be optimized to align with organizational objectives and constraints.
Utilize shorter duration classroom segments that lessen time commitment and optimize engagement.
Sample Learning Journey Roadmap
To learn more about the training options for your leaders simply email CEG at info@corpedgroup.com or call us at +1.978.649.8281.

---
For more information on this topic, as well as how Corporate Education Group can help power your organization's performance, contact us via email or call 1.800.288.7246 (US only) or +1.978.649.8200. You can also use the Info Request Form below!
---