«
Back
|
Home
»
Resources
»
Pm
The Top 10 Things You Should Know About PMBOK® Guide 4.0
We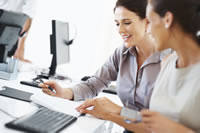 know you're busy, so we've created this handy, up-to-date reference that highlights Project Management Institute®'s (PMI®'s) top 10 changes of the Project Management Body of Knowledge (PMBOK® Guide) from the Third Edition to the Fourth Edition. Save yourself precious time and energy and discover what you need to know about the new PMBOK® Guide 4.0:
1. All process names are in a verb-noun format
2. A standard approach to discussing Enterprise Environmental Factors and Organizational Process Assets is employed
3. Change requests now include:
Change Requests
Corrective Action
Preventive Action
Defect Repair
4. The processes decreased from 44 to 42
Process Deletions:
Process Additions:

Identify Stakeholders
Collect Requirements

Combined Processes:

Plan Purchases and Acquisitions and Plan Contract to Plan Procurements
Request Seller Responses and Select Sellers to Conduct Procurements
5. A clearer distinction is made between the project management plan and project documents used to manage the project
While project documents are used to assist the project manager in managing the project, they are not part of the project management plan
6. A clearer distinction is made between the project charter and the project scope statement
7. Deletion of Process Flow Diagrams at the front of each chapter
8. Addition of Data Flow Diagrams for every process that shows where inputs come from and where they go to
9. Triple constraint expanded to include quality, resources and risk
10. New appendix on interpersonal skills
Effective project managers acquire a balance of technical, interpersonal, and conceptual skills that help them analyze situations and interact appropriately
For more information on this topic, as well as how Corporate Education Group can help optimize your organization's performance, contact us or call 1.800.288.7246 (US only) or +1.978.649.8200.