«
Back
|
Home
»
Resources
»
Pm
PM Resolutions to Ponder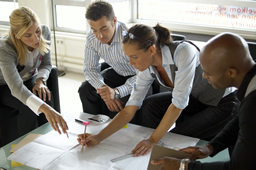 Happy New Year! Yep, we made it through despite Sandy and the Mayan Apocalypse. Now it's time to turn our gaze toward 2013 and beyond. If you are like me, no matter how many projects you complete and no matter how many frameworks and methods you master, there always seems to be room for improvement. So, in the spirit of New Year resolutions, what do you say to making a few in hopes of enhancing our PM prowess?
To help get things started, here are my top 10 personal PM resolutions for 2013. Maybe some will resonate with you:
1. Become more empathetic with stakeholders
Human nature seems to embrace empathizers — those people who demonstrate that they care about and understand what others think and feel. When people believe you understand their needs, wants, situation and issues, they tend to open up more, trust more and share more. As a project manager, the ability to empathize is something I am continuously trying to improve.
For more information on this topic, as well as how Corporate Education Group can help optimize your organization's performance, contact us or call 1.800.288.7246 (US only) or +1.978.649.8200.
Being able to understand in a way that others see that you understand goes a long way toward building credibility and winning support. In his article "What is the Secret to Project Management?", Peter Marci puts it this way:
"Through the use of empathy, a project manager increases his/her ability to communicate in a manner that often times guides the client or team member to the best solution for the project given project constraints."
Empathy exercises our emotional intelligence. It may very well be what separates the top project managers from those who are merely technically proficient. So, for 2013, I want to work on improving my empathy skills.
2. Expand knowledge of Agile and Scrum development techniques
Read almost any job posting for project managers these days and you will find that experience leading Agile or Scrum based projects to be either required or preferred. While I have been practicing these development techniques for many years, I know that I can do better. The challenge for me is to increase my capabilities without getting too wrapped up in all the terminologies lest I become a fanatical zealot and miss the real value these frameworks bring to the table. Let's face it: To be a world-class PM, you need to be proficient in multiple approaches and tools. So becoming more Agile and Scrum capable definitely makes it onto my 2013 resolution list.
3. Increase coaching and mentoring opportunities
One thing I have learned throughout the decades is that you can never grow enough good people. Being able to mentor and coach others toward success and professional growth is powerful stuff. As I reflect back over my project management and leadership accomplishments, it is clear to me that my fondest memories are those where I contributed to the success of others. Sure, I love to share good "mission impossible" project success stories as much as the next person, but when asked about real accomplishments, I always seem to reflect on those where teams came together, where people had breakthrough moments and lasting impacts on a personal level were achieved. In 2013, I will definitely be exploring ways to have more of those moments through coaching and mentoring opportunities.
4. Be more of a solution-facilitator more and less of a solution-originator
One of my main talents and curses is my ability to find workable solutions faster than most. Being an out-of-the-box, lateral thinker has always served me well throughout my project management years. But sometimes, the best, long-lived solutions are found by helping others discover them. In fact, most of the time, solutions discovered by those who must live with them work better than those that are given or proclaimed from upon high (management). As a PM, it is important that solutions be owned by stakeholders. People tend to buy in to solutions that they helped shape; ones where they share an emotional stake. Thus, in 2013, I will be working to change my project leadership emphasis from that of being the solution giver to that of being the solution facilitator.
5. Lead through example, not edict
One of the things parents learn early on is that their kids pay very close attention to actions more than they do to words. You learn that walking your talk is imperative to garnering trust and respect. The same is true in leading projects. Project team members, while they may not agree with your position, will tend to flow with it if they see you practicing what you preach. In fact, I have found that no words are needed if your actions are consistent and well purposed. This year, I am really going to work on honing my leading-by-example skills; more doing, less preaching.
6. Grow C-level executive appeal
Hopefully by becoming a better empathizer, coach, mentor and facilitator, my C-level executive appeal will naturally grow. Add a pinch of MBA-speak to the formula and perhaps a few suits, and you never know what might happen. Bringing project management and executive leadership skills to the table can only improve my ability to grow up the old corporate ladder. Whose career can't stand better pay and more opportunities? So look out, "C" folks! I am setting my sights on joining the fray.
For more information on this topic, as well as how Corporate Education Group can help optimize your organization's performance, contact us or call 1.800.288.7246 (US only) or +1.978.649.8200.
7. Expand knowledge of three industries & cultures: the organization's, PM and IT
For me, one of the things that takes a PM from being good to great is their ability to be a student of more than just project management. Since most of my projects are IT focused, I think it will serve me well to continuously improve my knowledge of IT and project management. Being a student of both industries and cultures makes me more effective. But beyond that, I think that a PM needs to spend time becoming a student of the industry they are managing projects within. Immersing yourself in the nuances and culture of the industry within which you practice your trade will yield big dividends. For 2013, I am committing myself to learning more about the industries I work within from multiple perspectives (historical, cultural, economic, regulatory and future trends).
8. Improve understanding of cloud based PM & collaboration tools
Whether you are pro or con cloud computing, it looks like it is here to stay. More likely than not, this means having to work with cloud-based PM tools. Over the past few years, most of us have used cloud-based collaboration tools (like gotomeeting, teambox, basecamp and others). But there are many more tools and approaches out there, ranging from file sharing portals to complex proposal response management offerings. The project planning and tracking software offerings alone are vast. So, being the non-stop learner that I am, I am going to learn at least three more environments this year. Wish me luck.
9. Grow presentation skills
Any PM worth their salt has finely honed presentation skills. It seems the more I present, the more I find room for improvement. It is one thing to present to a group and something altogether different to spellbind them. Being able to present in a way that draws an audience in and get them totally wrapped up in the topic has long been a goal of mine. For 2013, learning how to wrap a group around my little finger, when presenting, is big on my list.
10. Help all that you can
A core value that I share with many PMs is the desire to help--to add value to every project and initiative I participate in. Making a difference in the lives of people and in an organization to improve the way they achieve and share success has always been important to me. This desire reaches far beyond the boundaries of my project management endeavors. As I grow older and hopefully wiser, I find that helping people and organizations prosper and grow is becoming tightly woven into the fabric of my nature. More than ever, I am hoping that in 2013 and every year beyond, I find ways to grow in this area. I hope you are able to do the same. Making a positive difference begins with the desire to do so.
There you have it: my personal top 10 resolutions for 2013. Now that I have shared mine with you, I am hoping you will share yours with the rest of us at projectmanagement.com. You can start by weighing in on this article or perhaps starting a GIG or just connecting with other members.
Have a happy and purposeful new year, everyone!
For more information on this topic, as well as how Corporate Education Group can help optimize your organization's performance, contact us or call 1.800.288.7246 (US only) or +1.978.649.8200.
Copyright © 2013 ProjectManagement.com. All rights reserved.