«
Back
|
Home
»
Resources
»
Pm
What is a Project Manager?
Perhaps you've worked on plenty of projects, and you think you would like to make a career out of project management. What exactly does a successful project manager do and what does it take to become one? What skills do you need? Read on to find out.
What is project management and what do project managers do?
According to the Project Management Institute's (PMI)® A Guide to the Project Management Body of Knowledge® (PMBOK® Guide), "Project management is the application of knowledge, skills, tools, and techniques to project activities to meet the project requirements." If you're new to project management, this definition might have left you scratching your head in confusion. So, what exactly is it that project managers do?
For more information on this topic, as well as how Corporate Education Group can help optimize your organization's performance, contact us or call 1.800.288.7246 (US only) or +1.978.649.8200.
Essentially, the project manager is accountable for the success or failure of a project. Typical responsibilities of a project manager include:
Planning, Executing, and Closing Projects — defining the project, building its comprehensive work plan, and managing to the budget
Managing Teams — facilitating commitment and productivity, removing obstacles, and motivating team members
Managing Expectations — aligning projects to business goals, managing stakeholders, and communicating project status, milestones, and unexpected difficulties effectively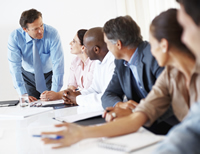 In addition to all of this, depending on factors such as the size and complexity of a project and resource constraints, a project manager may need to wear multiple hats; for example, some project managers need to assist with the gathering of business requirements and/or may work full time on a large project or even part-time on multiple, smaller-sized projects.
Also, it's important to remember that project managers are not expected to carry out all of the project work themselves. Project managers have project teams working under them who help to achieve all of the objectives of the project; however, if something goes astray with the project, the project manager is always ultimately accountable.
How can I get started?
It's not rare for people to "fall into" the project manager role because they are motivated team members who are good communicators, don't fear accountability, and have superior time management and organization skills; however, If you're not in the position where you are part of a project team and/or can network with other project managers and senior management, here are some ways you can start to build your project management and credentials entirely on your own:
Read blogs — did you know that if you do a search for "project management" at www.google.com there are almost 4,000,000 results? Commit to reading a few of your favorite project management blogs on a daily basis and you'll be amazed at how much information you'll gather!
Utilize Twitter — whether you're a novice or advanced Twitter user, it's hard not to spend at least ten minutes a day running through a Twitter search of say, "project management," and not find something that interests you or sparks your imagination.
Watch webinars from industry thought leaders — webinars are a great way to get valuable project management tips and tools in a timely fashion. To register for our free project management webinars, check out our webinars.
Participate in LinkedIn Groups — LinkedIn groups are a free, effective way to network with like-minded professionals. If you search for "project management" in LinkedIn's group directory, you'll get almost 3,000 results!
Professional organizations — if you're not a member of PMI already, you're missing out on the world's leading not-for-profit membership association for the project management profession. For information on how to join, visit www.pmi.org.
Get PMP Certification — PMI's Project Management Professional® (PMP®) Certification is one of the most well-known project management credentials and is the widely accepted standard for demonstrating a professional level of competence in project management. Many employers seek candidates with PMP Certification, as they realize that the individual's skill in project management has been tested formally. To learn more about the PMP Certification, please visit www.pmi.org/learning/careers.
Further your education — take classes, earn a certificate, and work toward obtaining and/or maintaining PMP Certification with a PMI Registered Education Provider. Go to our project management classes and schedules to learn more.
For more information on this topic, as well as how Corporate Education Group can help optimize your organization's performance, contact us or call 1.800.288.7246 (US only) or +1.978.649.8200.