«
Back
|
Home
»
Resources
»
Pm
Getting Your Arms Around Project Scope
By Bonnie Cooper, PMP®
What is Scope and Why is It Important?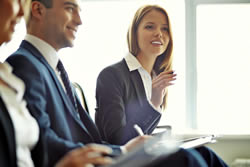 Simply put, scope is about the size of your project and how much work it contains. It is so important that project managers understand how to properly scope their projects, as it has its own dedicated Knowledge area in A Guide to the Project Management Body of Knowledge® (PMBOK® Guide), which defines scope as the sum of the products, services, and results to be provided as a project.
How Do You Get Started Scoping Your Project?
Well, if project scope is about getting your arms around all the work required — how do you start? Consider these steps:
First figure out, is this really a project? There is administrative overhead to running a project as each of its stages requires oversight, work effort, and deliverables. A lot of organizations have rules of thumb for when it makes sense to apply a project methodology. For example, some organizations require a project framework for efforts that have no less than 3 months worth of work to complete, resource requirements beyond more than one department, and/or having significant changes that will impact a business area. Having these kinds of guidelines help make the scoping exercise a little easier, as the project must have some scope already evident to be defined as such.

For more information on this topic, as well as how Corporate Education Group can help optimize your organization's performance, contact us or call 1.800.288.7246 (US only) or +1.978.649.8200.

Second, make sure you know why the project is being done. Review all initial artifacts like the business case and project charter which provide great clues toward defining scope. For example, these initial artifacts help to:
Identify the business imperative and its link to organizational strategy. This helps you understand the context for the project and is a useful tool to keep expectations in sync with ultimate desired outcomes.
Clarify project requirements and acceptance criteria. These are the first clues for what product is desired and how the outcome will be measured.
Identify specific project constraints and assumptions. These are where you start to understand the boundaries of the project (budget, resources, time, etc.).
Identify key stakeholders. Knowing who is involved in your projects is a key component to collecting all the key requirements for whatever it is that the project must produce; and, keep in mind, that the larger the stakeholder list, the more communicating you must do to keep those expectations managed. The scope of the project is informed by the scale of the stakeholder management tasks.
Third, look for boundaries that will help you keep scope in check. A common example used to illustrate this point is creating a soccer field out of a playing ground. The difference? The soccer field uses white lines as boundaries to keep players spatially in check, and a soccer game employs a clock to keep players motivated to score goals within the given time constraint. The project manager must think about how to draw the boundaries for a project, which means utilizing the constraints of schedule and budget.

In terms of schedule constraints, review the project's initiating documents and interview the business leads, to see if there is a time-to-market imperative or a business event where the project result must be available to showcase; or a scheduled business cycle where the project result must be ready to support. If the project is being driven to meet a time constraint then you must leverage that in the scoping exercise to clarify what work is critical to delivering an acceptable result in the time given. In terms of budget, you need to find out if getting all the functionality requested is more important than keeping costs down? Can we hire for skill gaps we lack? Can we add more resources when there is a time crunch? Are there contingencies built into the budget to handle scope changes?
For more information on this topic, as well as how Corporate Education Group can help optimize your organization's performance, contact us or call 1.800.288.7246 (US only) or +1.978.649.8200.
How Do I Define Scope?
What you learn in the scope definition stage will result in a document called the project scope statement which describes the project's deliverables (the product or service to result from the project) and the work needed to create these deliverables. The two major factors that make up the overall scope are: (1) the product or service that the project intends to produce (its features and functions) which is informed by requirements gathering and analysis activities, and (2) the size and complexity of the project which impacts the intensity of the project management effort to produce the integrated plan, to do the stakeholder management, and to produce the product. So, we need to figure out what we are building or producing, and then we need to figure out the effort to get it done within the project's context.
Here are three techniques that project managers can employ to define scope:
Expert judgment — you want to engage with people who have done similar work and have a good understanding of the business or technologies to be employed. They can help you by a) providing plans from comparable projects, b) knowing what questions to ask to elicit requirements, or c) providing insight into similar products or services. Experts can include your project stakeholders, industry experts, subject matter experts, consultants, industry colleagues, or external partners.
Alternatives analysis — an exercise to help identify different approaches to the work. For instance, do we buy it or do we build it?
Product analysis — used to translate the high-level product description into tangible deliverables. This is typically done by creating a product breakdown structure.
Additional scope definition techniques include multicriteria decision analysis, used to finalize the alternatives analysis, if necessary, and facilitation, used to elaborate and clarify product expectations with stakeholders.
How do I organize scope?
The best way to 'see' the scope of your project is to create a work breakdown structure (WBS). The WBS looks like an organization chart as it is a graphical representation of the project work organized into a logical hierarchy of deliverables. Creating the WBS can happen in three ways:
Analogous — this is the method of reusing or leveraging similar projects' work breakdown structures.
Top Down — this is the method to start with your top goal and work your way down. You do this by collaborating with the project team and/or experts to decompose the work into logical deliverables until you get to a reasonable level, called a work package that is generally 80 hours of effort. Often this starts with a blank wall and a bunch of yellow sticky notes that identify discreet and logical deliverables working down and across the structure.
Bottom Up — this is the method where you interview your project team to define all the work from the lowest level (work packages) and work up to the highest level project goals.
Ultimately, the WBS can be represented in the final project "schedule" as the schedule typically includes both the WBS elements (the what) and the lower level schedule tasks (the how).
In closing, the project manager must rely on many sources, tools and techniques to get their arms around scope. The key is that they are not in this alone and can rely on stakeholders, experts, team members and past projects to help discover the work.
For more information on this topic, as well as how Corporate Education Group can help optimize your organization's performance, contact us or call 1.800.288.7246 (US only) or +1.978.649.8200.
About the Author:
Bonnie Cooper, PMP®, is an instructor and subject matter expert for Corporate Education Group. She is also a twenty-year information technology professional, currently Program Director for the Massachusetts Medical Society's (MMS) Corporate IT Program Office. In her current role, she is responsible for coordinating the efforts of project teams, overseeing the implementation of project standards, managing the corporate IT strategic plan, and leading the program to re-engineer the membership platform for MMS.