Insurance
Cor Partners
---
Situational Overview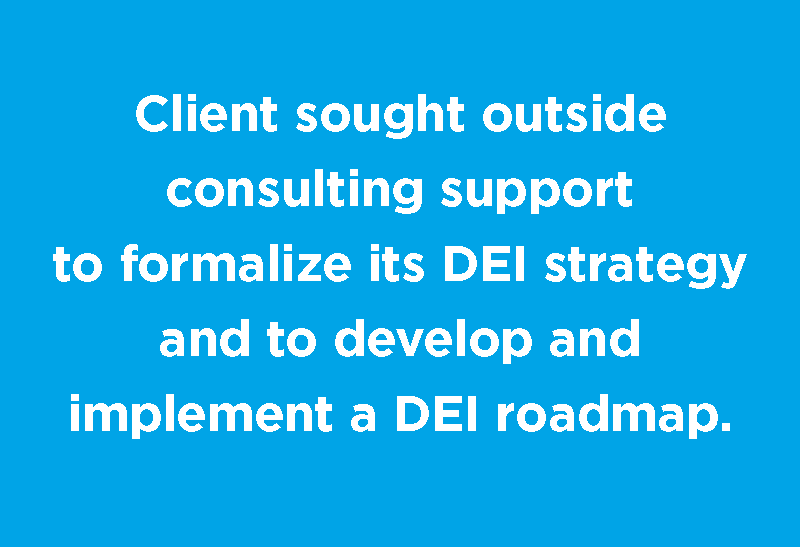 With a commitment to building a culture of care, compassion, and respect across its three companies, Cor Partners sought to move an informal Diversity, Equity, and Inclusion (DEI) approach to a more formal and sustainable DEI effort.
Client views promoting employee engagement and a implementing a formal DEI approach as a means to foster talent retention and alignment, while increasing organizational performance and stakeholder value.
Client sought outside consulting support to formalize its DEI strategy and to develop and implement a DEI roadmap.
CEG was selected to provide these consulting services.
---
CEG Solution
CEG provided consulting services that included:

Executive interviews to gain insights into their perspectives, expectations, and desired outcomes.
Site visits to companies' headquarters to conduct meetings with team members and make observations and gather data relative to cultural variances and similarities between the client companies.
Collaborating with key client leaders to produce a DEI Prioritization Roadmap through an iterative process.

Ongoing, CEG will collaborate with client to weave in DEI concepts, policies, and strategies as need and develop a DEI Council Strategy.
---
Results
Working with client leadership, CEG collaborated to produce:

DEI Executive briefings summary.
Communication plan, checklist, and initial communications content.
DEI draft Prioritization Roadmap and subsequent revisions to create the adopted Prioritization Roadmap.
PowerPoint presentation for executive leaders.
DEI Future State Report

CEG will deliver going forward:

A DEI Council strategic plan
Support to develop/refine DEI concepts, policies, and strategies.

High level of executive, leadership, and stakeholder engagement and satisfaction.

---
For more information on this topic, as well as how Corporate Education Group can help power your organization's performance, contact us via email or call 1.800.288.7246 (US only) or +1.978.649.8200. You can also use the Info Request Form below!
---
---