«
Back
|
Home
»
Resources
»
Ml
Creating Productive Partnerships
Partnering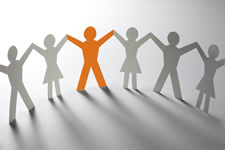 is a word that gets thrown around in the business world often. People use it to describe any relationship, business alliance, or friendship. However, we believe that partnership is something very specific that goes beyond collaboration to something deeper, more powerful, and life giving.
True partnerships transform good relationships into extraordinary ones. Not only that, they make routine work interesting, complicated projects energizing, and difficult workplaces rewarding. More than ever, people are turning to partnerships in organizations. They find that partnerships help them through the challenges they face on the job.
Partners boost the quality of deliverables, access a broader range of resources, and develop innovative ideas. They gain perspectives that they wouldn't have had otherwise, and benefit from the experience of another. They find companionship and support in a lonely workplace and, sometimes, have a magical experience of synergy that they'll remember all of their lives.
The Power of Partnership
A favorite partnering story features Karen, a project manager in an insurance company. When a new CEO came with a bold vision, he chose Karen to lead a mission-critical technology project. Having worked on these kinds projects before, and seen many flounder, she knew that the only way to succeed would be to do things differently.
Karen found Pedro, the business sponsor for the project, and initiated a partnership with him. Karen and Pedro realized that each had things the other needed: critical information, access to resources, and different perspectives. More importantly, they realized was that they needed to build their partnership, share their perspectives, and work out the differences that could have divided their teams in order to be successful. As they devoted time and energy to developing their partnership, they were both profoundly impacted by the unexpected gifts their partnership provided. Not only did Karen receive the support she sought, but she learned new skills (including some handy gardening tips!). Pedro found an ally in Karen who helped him navigate the politics of a company he had joined only months ago.
For more information on this topic, as well as how Corporate Education Group can help optimize your organization's performance, contact us or call 1.800.288.7246 (US only) or +1.978.649.8200.
In the end, Karen's and Pedro's project was an unprecedented success. To the CEO's delight, they implemented the new technology on an impossible schedule, achieving ambitious quality and customer satisfaction goals. They've continued their commitment to each other; they stay in touch and help each other whenever asked to this day. Many people have commented on Karen and Pedro's synergy. It is as if they create energy larger than themselves, an unspoken connection that helps them succeed.
The Benefits of Partnering
Increase capacity
Increase quality
Increase access to resources
Boost innovation
Gain support during chaotic times
Add perspectives
Gain companionship
Do more in less time
Create synergy
Where do Partnerships Exist?
Partnerships can exist in any level of organization, any type of department, and any kind of company. Partnerships can span geographic distance, organizational levels, departments, and cultural differences. We've seen partnerships between:
Team leads who rely on each other in order to bring a difficult project to completion
Executives who negotiate resource usage from each others' divisions
Directors who jointly lead an organization-wide change effort in record time
Consultants who create close partnerships with internal partners
Small business owners who form alliances in order to expand
Nonprofit leaders who develop partnerships to further their organizations' missions
Administrators who span departmental boundaries in order to ensure consistency
Academics who join together to create the book that will earn them tenure
Screenwriters who collaborate on a script that wins an Academy Award
Each of these partnerships contributes to the extraordinary success of the individual partners and the work they produce together.
How to Get Started
The first step is to recognize that a partner is desired and needed. Then, start exploring:
Who are potential partners?
What could you achieve together that would be more difficult to achieve apart?
What opportunities could be better pursued together?
Do you have the bandwidth to commit to a partnership, since it does take some additional time to build before achieving results?
For more information on this topic, as well as how Corporate Education Group can help optimize your organization's performance, contact us or call 1.800.288.7246 (US only) or +1.978.649.8200.
Once these questions are considered, the next step is to explore the fit with the potential partner. That person needs to also see the possibilities, desire the opportunities, and have the bandwidth to commit. Sometimes, during this phase, individuals realize that the partnership is not right. They'll stop the process and proceed down a new path, considering partnerships with other individuals.
Once people commit, they make the jump into partnership. They enter into creation phase, in which they negotiate wants and needs, set expectations, and form the foundation for their work together. They work through who will be responsible for what and what they want to achieve through their partnership.
Partners then move to a cultivation stage, in which they grow their partnership and work towards their goals. In this phase, often the longest in the partnership, they perform the work that they have set out for themselves. When challenging issues arise, they tend to them. They manage changes in their environments, evolve their partnership to adapt to those changes, and deepen their effectiveness.
The final stage occurs when partners decide that their partnership needs to change into a different form. This may occur when their work together is finished or when they need to form a different kind of partnership. They close their existing partnership and look to the future.
For more information on this topic, as well as how Corporate Education Group can help optimize your organization's performance, contact us or call 1.800.288.7246 (US only) or +1.978.649.8200.
Throughout this process, partners can expect to spend more time talking about process, direction, and coordination. Yet, they can also expect increased quality, capacity, performance, and, perhaps most valuable, an ally in the ever-changing, complex world of organizations.
About the Author:
Maya Townsend, MSOD, is a Trainer and Consultant for Corporate Education Group. Maya is also Founder and Lead Consultant for Partnering Resources, where she specializes in leadership, strategy and collaboration. During her career, Maya has successfully designed and facilitated training programs to over 5000 people in groups of 3 to 130 in the public and corporate sectors. Highly intuitive, analytical, and imaginative, Maya works at all levels, from CEOs to line workers, to develop the relationships, ideas, connections, and interdependencies that shift an organization to the next level of productivity and performance.