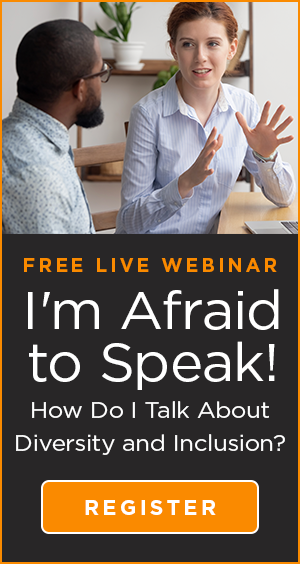 «
Back
|
Home
»
Program Areas
»
Management Leadership
Tackling Bias and Creating Inclusion Learning Journey
Virtual Instructor-led

Delivery Method

Six learning hours paced over 3 weeks

Duration
Pre-Program Assessment (30 minutes)
Three Instructor-Led, Virtual Learning Sessions (2 hours per session)
Two Self-Paced "Bridge" Learning Assignments (30 minutes per assignment)
One Individual 1-1 Coaching "Launch" Session (30 minutes)
---
Explore the guidelines for initiating — and continuing — "difficult" conversations, with a focus on active listening and empathy.
---
Actively tackling bias in the workplace helps build better organizations… and better people. If you want to unleash the true potential of your workforce, you first need to create an environment in which diverse perspectives, contributions, and talents can flourish — where everyone feels valued and visible
Explore the landscape of diversity, equity, and inclusion (DE&I), with self-awareness and inquiry as a starting place. Discover how our own relationship to privilege has impacted our access to opportunity, looking at the dimensions of diversity that have shaped our experience. Delve into the impact of bias and stereotyping on individuals and groups, learning techniques for mitigating bias and building ally skills.
Through a variety of team activities, scenario work, videos, and role-play, we will investigate concrete ways to foster an environment of psychological safety, where traditional assumptions are questioned and mistakes are reframed as learning opportunities. We'll explore the connection between a sense of belonging and active engagement at work.
---
For more information on bringing this program to your organization please contact Carla Sandness, Enterprise Solutions, +1.612.719.4462 (mobile) or +1.978.649.8281 (office) or by email at csandness@corpedgroup.com.
---