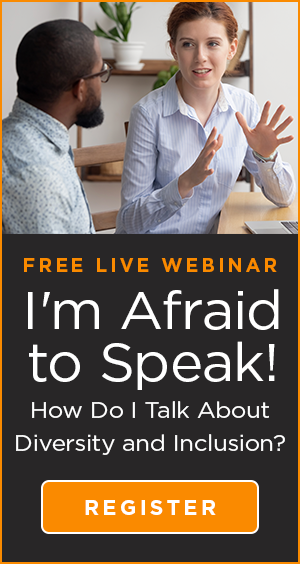 «
Back
|
Home
»
Program Areas
»
Management Leadership
Inclusive Leaders Learning Journey: Open Enrollment
Virtual Instructor-led

Delivery Method

Sixteen learning hours paced over 3 weeks

Duration

MDV2010

Course Code
Pre-Program Assessment (30 minutes)
Five Virtual Learning Sessions (16 learning hours in total)
Two Self-Paced "Bridge" Learning Assignments (1 hour in total)
One Individual 1-1 Coaching "Launch" Session (30 minutes)
---
When people feel included at work — when they feel valued and respected — they're more engaged, more productive, and more willing to deliver above and beyond what is asked of them.
---
The Inclusive Leadership Learning Journey expands the landscape around Diversity, Equity, and Inclusion (DEI), exploring a variety of dimensions in which leaders need to be inclusive. Foundational to the learning experience is a commitment to the values of DEI that goes much deeper than the business case for treating people with respect. Designed as a highly interactive cohort experience, this learning journey will equip participants to: apply Situational Leadership concepts to increase leadership agility; foster connection and collaboration within a multi-generational, multi-cultural workforce; leverage cognitive diversity to drive innovation; and build an inclusive team culture that embraces the seismic shift in how, when, and where we work.
Inclusive Leaders is designed for mid-level managers, HR professionals, leaders, directors, and leaders of leaders who want to enhance their ability to recruit, retain, engage, and develop an exemplary diverse workforce.
Course Schedule
Duration
Fee
Date
Location
3 Weeks
$2695
Sept 21, 23, 28, 30, Oct, 5, 7, 2021
Virtual Instructor-led
For scheduling information beyond the above dates, call 1.800.288.7246 (US Only) or +1.978.649.8200.
Please note that prices are subject to change without notice.