Lean Six Sigma Green Belt Certification
---
Traditional Classroom: 8-day
Virtual Instructor-led: Sixteen 3.5-hour sessions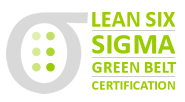 Lean Six Sigma quality-improvement methods focus on reducing defects, streamlining processes, and improving product quality. This program focuses on the main steps in the Lean Six Sigma approach.
Green Belt training provides individuals with a methodology and tools to deliver successful projects as a Lean and Six Sigma project team member. Teams will be established during the course and are expected to identify a project they can work on. Throughout the training, in teams of three to four, they will have the opportunity to apply concepts and techniques. This training will allow employees to be valuable assets to drive the organization's goals and objectives in the future.
---
Target Audience
Download Brochure
Green Belt training is targeted for core team members who will be focused on tools usage and DMAIC and Lean Principles for process improvement projects.
Learning Objectives
Understand and apply the Lean and DMAIC models as a framework to drive process improvement activities.
Learn and apply skills in process management, Lean, change management, and basic statistical analysis to business issues.
Apply basic statistical analysis to determine the relationship between key inputs and outputs.
Transition projects from phase to phase using DMAIC.
Define both bottom-line and "soft" cost savings from improvements.
Lean Six Sigma Green Belt Certification
To achieve a CEG Lean Six Sigma Green Belt Certification, each participant must successfully complete the course, which includes attending all sessions, completing assignments, passing a final exam, and completing a relevant team project within 12 months of the class end-date.
Course Outline
---
Module 1: Overview of Lean Six Sigma
Introduction
Goals
Agenda
Module 1: Continuous Improvement
Process Improvement
Key Six Sigma Concepts

Exercise: Methodology Selection

Green Belt Roadmap

Exercise: Reinforcing the Six Sigma Mindset
Module 2: Define Phase
Project Selection
Team Charter

Exercise: Develop a Charter Using Your Team Project

Focus on the Customer

Exercise: Voice of the Customer (VOC)

High-Level Process Map: COPIS

Exercise: Analyze a Process Using COPIS

Team Dynamics and Performance

Exercise: Constructive Conflict
Module 3: Measure Phase
Exercise: Inspection
Define Measurement

Exercise: Identifying Output and Input Measures

Collect Data

Exercise: Classifying Measurements
Exercise: Creating and Interpreting a Pareto Chart
Exercise: Operational Definitions

Understand Variation

Exercise: Identify Variation
Exercise: Defining an Acceptable Sigma
Module 4: Analyze Phase
Identify Possible Causes

Exercise: Analyze Preliminary Data
Exercise: Variance and Standard Deviation
Exercise: Create a Stem-and-Leaf Plot
Exercise: 8 Forms of Waste
Exercise: Applying 5S Using Your Team Project

Narrow to Root Causes

Pareto Charts and Stratification
Exercise: Cause and Effect (Fishbone) Diagrams
Exercise: Using 5 Whys
Exercise: Correlation and Regression Analysis
Run Charts

Quantify the Opportunity

Exercise: Quantifying the Opportunity Using Team Projects
Module 5: Improve Phase
Identify and Synthesize Solutions

Exercise: Use the Various Types of Brainstorming
Exercise: Applying Idea Synthesis Tools to Your Team Project

Select Solutions

Exercise: Must-Have Criteria
Input/Effort Matrix
N/3 Process
NGT Process
Exercise: Apply Prioritization Tools to Team Project
Exercise: Criteria-Based Matrix
Exercise: High-Level Cost Benefit Analysis

Pilot Solutions

Plan-Do-Check-Act
Exercise: Build an FMEA
Exercise: Plan and Run a Pilot

Implement Full-Scale Solutions

Mistake-Proofing
Troubleshooting

Change Leadership

Exercise: Elevator Speech
Exercise: Create a Shared Need
Module 6: Control Phase
Exercise: The Power of Control
Update Documentation

Standardization
Exercise: Process Management Plan

Monitor Process

Exercise: Establish a Monitoring Rhythm
Exercise: Control Charts

Manage Process

Exercise: Develop Communication Plan for Team Project
Exercise: Visual Management Systems

Closing Thoughts and Action Planning
Duke Continuing Studies
---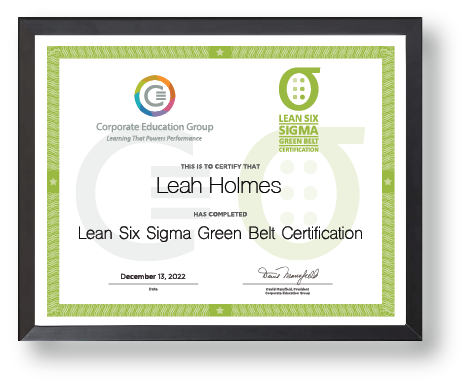 You can also earn this certificate through CEG's alliance with Duke Continuing Studies to build professional credibility with quality training backed by a renowned higher-education institution.
Participants who opt for the CEG/Duke Continuing Studies Lean Six Sigma Black Belt Certification Program are required to pass a 30-question exam at the end of each 3-day session to earn a co-branded certificate of completion jointly issued from CEG and Duke Continuing Studies.
MDP1546 Course Code
---
For more information on this topic, as well as how Corporate Education Group can help power your organization's performance, contact us via email or call 1.800.288.7246 (US only) or +1.978.649.8200. You can also use the Info Request Form below!
---