Lean Six Sigma Black Belt Certification Program
---
Traditional Classroom: 9-day
Virtual Instructor-led: Eighteen 3.5-hour sessions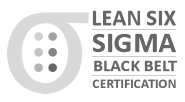 Lean Six Sigma quality-improvement methods focus on reducing defects, streamlining processes, and improving product quality. This program focuses on the advanced skills in the Lean Six Sigma approach.
Black Belt Training provides comprehensive development for Lean Six Sigma specialists to build on Green Belt training and develop dedicated resources for improvement projects.
---
Target Audience
Download Brochure

Black Belt training is targeted for dedicated Lean Six Sigma full-time practitioners that lead client process improvement projects.
Tollgate Review (TGR) coaching sessions will be provided to support participants with their projects
Seventy-five (75) question online certification exam will be administered last day of class
70% passing score is required
Prerequisites
The Lean Six Sigma Green Belt Training is foundational and a prerequisite for this course.
Lean Six Sigma Black Belt Certification
To achieve a CEG Lean Six Sigma Black Belt Certification, each participant must successfully complete the course, which includes attending all sessions, completing assignments, passing a final exam, and completing a relevant project, for which he or she is the lead, within 12 months of the class end-date.
Learning Objectives
Understand Lean Six Sigma advanced skills and tools using the DMAIC process.
Learn leadership and team skills.
Apply skills in project management, process management, Lean, and statistical analysis to business issues.
Understand organizational change process and tools.
Close out projects upon completion and to sustain gains.
Utilize statistical analysis software to analyze and visualize data.
Course Outline
Module 1: Overview of Lean Six Sigma Black Belt Program
Introductions
Overview of Six Sigma and Lean
Comparison of Black Belt and Green Belt
Project Selection
Exercise: Elevator Speech
Black Belt Roadmap
Exercise: Reinforcing the Six Sigma Mindset
Module 2: Define Phase
Review Charter, VOC/CTQ, COPIS, Team Performance
Kano Model
CTQ Tree
QFD
Project Management Toolkit
Module 3: Measure Phase
Exercise: Communication
Review Measurements, Classifying Data, Data Collection, and Variation
Flow Metrics

Lead Time, Cycle Time, WIP
Takt Time
Value Stream Mapping

Sampling Methods

Simple Random Sampling
Systematic Random Sampling
Stratified Random Sampling
Cluster Random Sampling

Measurement System Analysis and Gage R&R
Process Capability

Histogram Reviews
Normality Plot
Descriptive Statistics
DPMO Calculation
Process Sigma Calculation
Assessing Process Capability
Module 4: Analyze Phase
Review Key Green Belt Analyze Concepts
Correlation and Regression
Confidence Intervals
Hypothesis Testing
Change Acceleration
Facilitating Teams
Executive Presence & Presenting Up
Creativity & Innovation
Module 5: Improve Phase
Review Idea Generation, Selecting a Solution, Piloting and Implementing, and Change Leadership
Lean Tools

3M — Muda, Muri, Mura
8 Wastes — TIMWOOD Plus
Sequence of Events
Kaizen
Poka-Yoke

Design of Experiments
Cost-Benefit Analysis
Module 6: Control Phase
Review of Key Tools and Concepts from Green Belt Control Phase
Risk Management
Control Charts
Project Closure
Module 7: Wrap Up and Exam
Review of Black Belt DMAIC
Exam Prep
Project Next Steps
Duke Continuing Studies
---
You can also earn this certificate through CEG's alliance with Duke Continuing Studies to build professional credibility with quality training backed by a renowned higher-education institution.
Participants who opt for the CEG/Duke Continuing Studies Lean Six Sigma Black Belt Certification Program are required to pass a 30-question exam at the end of each 3-day session to earn a co-branded certificate of completion jointly issued from CEG and Duke Continuing Studies.
MDI1895 Course Code
---
For more information on this topic, as well as how Corporate Education Group can help power your organization's performance, contact us via email or call 1.800.288.7246 (US only) or +1.978.649.8200. You can also use the Info Request Form below!
---