Lean Six Sigma Yellow Belt Certification Program
---
Traditional Classroom: 3-day
Virtual Instructor-led: Six 3.5-hour sessions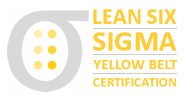 This three-day instructor-led course is intended to provide participants with a clear, simple, and applicable understanding of how Lean concepts, mindsets, and toolsets can create a culture of continuous improvement with processes that are efficient and effective. At the end of the class, participants can chose to become certified Yellow Belts by passing a 30-question exam based on course content.
---
Target Audience
The primary audience for this course is anyone working in a culture that emphasizes effective and efficient quality delivery of processes, products, and services.
Download Brochure
Learning Objectives
Explain Lean principles.
Identify eight common sources of waste in an organization.
Identify a value stream and define opportunities for improvements.
Build basic skills in continuous improvement and related tools.
Identify and calculate flow rates and bottlenecks.
Practice the implementation of "error-proofing."
Key Takeaways
Ability to determine eight common forms of process waste
Confidence to reduce or eliminate waste through simple improvements
Ability to identify process performance, improvement, and control
Course Outline
---
Mindset and Concepts
Module 0: Introduction
Introduction
Goals
Agenda
Module 1: Continuous Improvement
What Is a Lean Enterprise
Illustrate Eight Forms of Waste (TIMWOOD Plus)

Exercise: Identify Examples in Your Environment

What Is Six Sigma DMAIC

Exercise: Identify Examples in Your Environment
Module 2: Value Stream Mapping
What Is a Value Stream?
Benefits of Process Mapping
How to Create a Value Stream Map

Exercise: Create a High-Level Value Stream Map
Module 3: Visual Management
What Is Visual Management
5S

Exercise of application on 5S

Visual Control

Exercise: Process Control
Toolset
Module 4: Error-Proofing
What Is Poka-Yoke?

Exercise: Common Causes for Human Error
Module 5: One-Piece Flow
What Is One-Piece Flow?
One-Piece Flow Benefits

Exercise: One-Piece Flow Simulation
Module 6: Standard Operations
Definition
Steps to Finding Work Commination
Takt Time and Takt Rate
Bottlenecks and Constraints

Discussion: Is There a Constraint?
Exercise: How to Reduce Constraints
Skillset and Certification
Module 7: Introduction to Kanban Pull Systems
Kanban Pull Systems
Just-in-Time Manufacturing and Kanban
Withdrawal Kanban
Discussion: Pull Systems
Module 8: Summary, Exam Preparation, and Review
Practice Questions for Certification Exam
Review of Answers and Testing Tips
Action Planning for Application of Continuous Improvement
and Storyboard
Duke Continuing Studies
---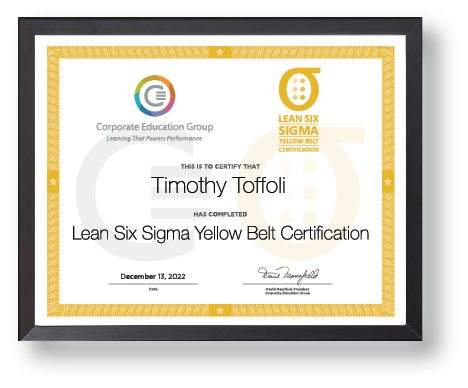 You can also earn this certificate through CEG's alliance with Duke Continuing Studies to build professional credibility with quality training backed by a renowned higher-education institution.
Participants who opt for the CEG/Duke Continuing Studies Lean Six Sigma Black Belt Certification Program are required to pass a 30-question exam at the end of each 3-day session to earn a co-branded certificate of completion jointly issued from CEG and Duke Continuing Studies.
MDI895-3 Course Code
---
For more information on this topic, as well as how Corporate Education Group can help power your organization's performance, contact us via email or call 1.800.288.7246 (US only) or +1.978.649.8200. You can also use the Info Request Form below!
---