«
Back
|
Home
»
Certificate Programs
Data Analytics Certification Program
Earn
a certification in data analytics when you take CEG's new program Insights from Data: Essentials of Data Collection, Analysis and Visualization. You will improve your ability to analyze complex data, visualize and present key findings and accelerate the strategic decision-making process. This program is essential for individuals and organizations seeking to leverage data for competitive advantage.
Offered in both virtual and traditional classroom formats, this five day (10 virtual session) hands-on workshop provides participants with in-depth knowledge and practice of data analysis using Microsoft® Excel. Using real-world data sets, participants determine what should be measured and how data should be accurately collected, recorded, analyzed and presented to make well-informed decisions and improve results. Data analytics skills will be enhanced to effectively use data to drive improved decision making related to strategic initiatives with select benefits to include lowering costs, identifying new market opportunities, identifying process improvements, decreasing risk and increasing client satisfaction and performance outcomes.
Program Objectives
Improve your ability to effectively collect, analyze and communicate recommended solutions for data driven problems.
Provide underlying analytics skills to improve organizational efficiency and effectiveness.
Enhance capabilities to create and present powerful stories supported by data to influence and improve decision making for key stakeholders.
Provide strategic value to the organization in lowering costs, identifying new market opportunities, and growing revenues leveraging data investments and repositories.
Note: Participation in this program will require work to be carried out using a Windows PC, with Microsoft Excel 2010 and above. A working knowledge of the Microsoft Windows operating system is also required.
The program consists of 1 day of Data Collection, 3 days of Data Analytics, and 1 day of Data Visualization. Click on Data Collection, Data Analytics, or Data Visualization in the diagram above to learn more about each area of focus!
Schedule & Pricing
No courses are scheduled at this time.
Earn your CEG Data Analytics Certification
Upon successful completion of the Data Analytics Certification Program and passing the certification exam, you will earn a certificate of completion along with a CEG Data Analytics credential (CEG-DA) The Certification Final Exam is administered within 5 business days of completion of the full program.
Building Professional Credibility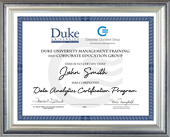 You can also earn this certificate through CEG's alliance with Duke University to build professional credibility with quality training backed by a renowned higher-education institution. Participants who opt for the CEG/Duke University Management Training Data Analytics Certification Program are required to pass an exam at the end of each focus area (Collection, Analysis, Visualization) to earn a co-branded certificate of completion jointly issued from CEG and Duke University.