By By Dr. Martin Schedlbauer, CBAP, OCUP
Executive Summary
The requirements for projects are often uncertain, and careful analysis is critical for the success of the project. The business analyst (BA) has emerged as a pivotal link in ensuring the successful specification of requirements to deliver effective business solutions and business process transformations. To be successful, a business analyst has to have the right set of skills and competencies; in addition, a standard methodology that includes templates for deliverables, processes, and tools must be available to guide the business analyst through the complexities and vagaries of a project. A Business Analysis Center of Excellence (BACoE) provides such a framework and is essential in increasing the maturity of an organization and consequently in reducing the risk of projects.
Motivation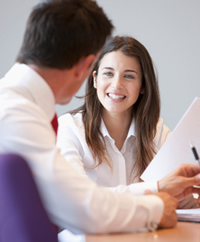 An increasing number of our clients have asked us to help them explore the use of Centers of Excellence to increase the visibility and competency of their business analysts. They have come to realize that the role of the business analyst (BA) has emerged as a critical role on information technology and other projects with uncertain requirements; however, they know that their analysts are frequently not properly prepared for that role and often lack support. So, they are looking for ways to improve the skill sets of their business analysts and provide structured support for them.
The business analyst plays a lead role in identifying, defining, and documenting business and stakeholder requirements for IT and other projects. High-quality requirements are a key factor in successful projects. Requirements are generally communicated to different stakeholders in various documents. The documents are composed of a variety of artifacts, such as use cases, context diagrams, storyboards, data dictionaries, data models, business process models, business rule catalogs, decision tables, among many others.
The actual choice of artifacts to include in a requirements document is generally up to the business analyst. The business analyst chooses those artifacts that best allow others to understand the requirements. However, most business analysts are self-trained and work in an ad hoc fashion. Rarely is there guidance for the business analysts in what artifacts should be prepared for a particular project and how those artifacts should be communicated; in addition, business analysts often rely on simple tools such as word processors and drawing programs rather than professional requirements management and visualization tools.
The first step in increasing the competency of business analysts is training that leverages industry-best practices and is aligned with the International Institute of Business Analysis®'s (IIBA®'s) Business Analysis Body of Knowledge® (BABOK®). Once the analysts are trained, they need a support organization that provides guidance to them and the organization at large. A Business Analysis Center of Excellence (BACoE) provides such guidance.
For more information on this topic, as well as how Corporate Education Group can help optimize your organization's performance, contact us or call 1.800.288.7246 (US only) or +1.978.649.8200.
The Business Analysis Center of Excellence
Let's start by defining what a Business Analysis Center of Excellence should be. A BACoE is an organization that encourages and facilitates collaboration, and manages best practices for some specific functional area in an effort to increase business success. Perhaps a more apt term would be a Competency Development Center.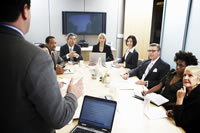 The BACoE can be set up as a virtual organization matrixed into the rest of the company or an actual group with a discretionary budget, separate management, and clear authority. The group can be staffed with dedicated or part-time members.
The creation of a Business Analysis Center of Excellence is an indication that the organization is reaching a higher level of organizational maturity. As the maturity of the organization increases, the risk of failed projects tends to decrease.
Responsibilities of the BACoE
A significant responsibility of a BACoE is to assure that business analysis artifacts are prepared with the same level of quality throughout the organization. Often, the artifacts prepared by one business analyst may differ dramatically from those of another. When that occurs, the organization has to deal with requirements specifications that vary in format and level of quality. This means that the artifacts being produced are highly dependent on the person producing them. Naturally, this leads to an uneven quality of products and increases project risk.
A BACoE needs to assume leadership in formalizing the expected quality, format, and presentation of artifacts. Such a leveling of quality is approached initially through training and the creation of artifact templates. In addition, standardization all of tools used by the business analysts increases the leveling of quality. Furthermore, support of projects by the Center of Excellence ensures that the same care and level of professionalism are applied to all projects within the organization. Finally, assistance in conducting post-project retrospectives allows the BACoE to discover where there are areas for betterment resulting in continuous quality improvements.
Functions of a Business Analysis Center of Excellence
In our experience, a Business Analysis Center of Excellence should provide support and be responsible for the following:
Tactical Project Assistance
Methodology
Best Practices
Learning and Professional Development
Tool Standards
Tactical Project Assistance
The BACoE must provide assistance and support to projects in the form of project coaches, mentors, and staff. Such assistance takes the form of business analysis planning at the initiation phase of new projects to ensure that the right resources and approaches are in place. If required, the BACoE needs to be in a position to provide resources to the projects. Such resources might include project coaches or lead business analysts who ensure that business analysis methods and tools are being applied effectively and that deliverables follow organizational standards. The resources employed by the BACoE can be virtual members, dedicated staff, or outside consulting resources hired by the BACoE.
For more information on this topic, as well as how Corporate Education Group can help optimize your organization's performance, contact us or call 1.800.288.7246 (US only) or +1.978.649.8200.
Methodology
A methodology provides a clear definition of standard approaches for business analysis planning, monitoring and execution. The IIBA®'s Business Analysis Body of Knowledge® (BABOK®) can be used as a template for the development of a methodology suitable to the organizational culture. The BABOK® represents industry-best practices and, therefore, provides an excellent foundation for the development of a standard business analysis methodology.
The dissemination of the methodology must be planned and generally involves generic BABOK®-aligned training on the skills and techniques needed by business analysts, followed by training on the specific methodology and practices used by the organization.
Best Practices
It is necessary to create and maintain a collection of company and industry-best practices for business analysis and the creation of business analysis artifacts. Practices include, for example, industry standards for use cases, data models, process models, and other types of visual and textual documentation.
Learning and Professional Development
The BACoE is responsible for the management of a standard competency model and associated training curricula, certifications, competency assessments, formalized role definitions, and practices for knowledge sharing. This also includes the creation and maintenance of shared knowledge repositories, discussion forums, and collaborative websites such as "wikis".
Tool Standards
A standard set of tools is essential for the preparation of high-quality, standardized business analysis artifacts. Information on useful and approved tools for the preparation of business analysis artifacts and the management of those artifacts is a central responsibility of the BACoE. Examples of such tools include requirements management tools and visual modeling tools.
In addition to tools, there must be a repository of deliverable standards, i.e., a repository containing templates, checklists, and other guides for the preparation of business analysis artifacts.
Forming a Business Analysis Center of Excellence
The creation of a BACoE involves several steps and requires significant investment by the organization in terms of human resources and financial support, although a BACoE can often be started with only minimal initial effort. The ongoing maintenance and full organizational dissemination generally requires more substantial resources.
The formation of a BACoE consists of seven main steps:
Assessment of the current state
Determination of desired future state
Analysis of gaps
Specification of desired level of maturity
Development of competency model
Dissemination of improvements
Maintenance and continuous enhancement of new competencies



Figure 1. Process for Formation of a BACoE
Start by assessing the current state of business analysis maturity by testing the existing skills of the business analysts and conducting focus groups with project managers to understand their needs as well as perceived gaps. Evaluate the skill assessments by comparing the results against industry benchmarks such as the IIBA®'s Business Analysis Competency Model. Once the gaps have been identified, determine what level of maturity is needed to support projects and develop a future state competency model. Next, devise a strategy to disseminate the improvements through internal and external training, pilot projects, self-study, online forums, wikis, and project mentors.
Finally, maintain and enhance the business analysts' skills through continuous competency monitoring and improvement. This involves regular retrospectives, surveys, focus groups, individual competency assessment, periodic training, and opportunities to attend business analysis conferences and networking gatherings.
Conclusion
In conclusion, creating a Business Analysis Center of Excellence significantly increases the maturity of an IT organization and consequently diminishes the risk of failed projects. A successful BACoE must receive constant care and must be proactively managed. Its responsibilities must be clearly outlined and appropriate resources must be provided.
For more information on this topic, as well as how Corporate Education Group can help optimize your organization's performance, contact us or call 1.800.288.7246 (US only) or +1.978.649.8200.
About the Author:
Dr. Martin Schedlbauer, consultant and instructor for the Corporate Education Group, is an accomplished business analysis subject matter expert, and has been leading and authoring seminars and workshops in business analysis, software engineering, and project management for over twenty years. Beyond that, he is involved in architecting large-scale distributed software systems for many of his clients.
Business Analysis
---
Business Analysis Training Solutions
With a trained team and the right tools and techniques, business analysis helps an organization implement new processes, reduce costs, and increase efficiency, productivity, and results.
---