«
Back
|
Home
»
Resources
»
Pm
Better Annual Performance Goal Planning
Plan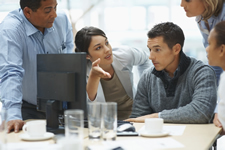 to make this year a decisive year in your professional development. How? By harnessing the edge that your project management skills give you to create a powerful career-boosting annual development plan. What? You're not sure how to do this? Your previous annual development/performance plans have just included training and completing routine work? It appears, then, you have been missing out on some big benefits available through those project management skills you worked so hard to achieve.
Getting Started
The annual performance plan can be frustrating, and can even appear to be a waste of time. Using this new tactic, though, may help energize you to make this year different. Think about these questions:

What are obstacles to getting project work done in your organization or department?
What is needed in your workplace to improve productivity or efficiency?
What improvements are needed most in your department?
What improvements can be made to improve the project management process to bring big savings in cost or productivity?
Keep a list of what you come up with.
For more information on this topic, as well as how Corporate Education Group can help optimize your organization's performance, contact us or call 1.800.288.7246 (US only) or +1.978.649.8200.
Selecting the Best Ideas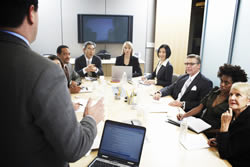 Now that you have some listed departmental/organizational performance gaps...

Note the ones with the most value to the organization/department; these are the ones that will add the most value if resolved or partially resolved.
Determine which of these can be completed (at least in major part) this year. Consider these the "low hanging fruit". This is your short list that you choose from to add to your other personal annual development goals.
Describe these work items in observable/achievable terms. Make it clear that they will be projects, even if small ones.
Make your final selections based on what you can actually complete during the evaluation period. Include these in your performance plan.
Examples
Just in case using your project management expertise in this way is not obvious in your situation, here are some examples to help you identify opportunities:

Create a team (or become actively involved in an existing team) to upgrade the project management process for your organization. Make an improvement that has a demonstrable change. You benefit by learning new techniques; your organization gets a better process for all projects.
Use a project management community of practice to revise standards for business requirements to solve the problem of excessive change controls. You benefit by learning more details about business requirements and the business; your organization benefits by getting better quality requirements documentation.
Complete this year's XYZ project using social media in a targeted way to improve stakeholder communication. You benefit by leveraging technology in a more sophisticated way in this project and in the future; your organization benefits by your documented learnings and best practices.
Assist the Release Management team to upgrade the process of preparing for releases. You benefit by learning more about the many problems faced by those readying a release for production; your organization benefits by your more repeatable and consistent process.
How Your Abilities Help
Your project management capabilities enable you to take on more organizationally relevant goals in your annual performance planning. You have the ability to work with stakeholders. You are able to initiate and execute projects. You have the ability to manage a workforce of resources that may only work part time for your project.
Sure, you may need some standard training to get these special projects done, but just add that to your annual development plan and complete it before you need it. There is no better way to learn new skills than to use them on the job--and if you frame these goals as projects, you can get additional project management experience by leading these improvements. Finally, be sure to obtain recognition from the wider organization of your successes to maximize the career-boosting effect.
For more information on this topic, as well as how Corporate Education Group can help optimize your organization's performance, contact us or call 1.800.288.7246 (US only) or +1.978.649.8200.
Copyright © 2013 ProjectManagement.com. All rights reserved.