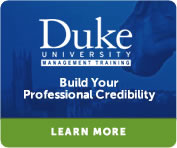 Select one or more from the list below:
«
Back
|
Home
»
Courses
Consulting Inside Your Organization
People at all levels of the organization are asked to use their knowledge and skills to facilitate change or improvement, yet they may not have direct control over how those changes are implemented. Consulting is the process of recommending actions without having formal authority to put those actions into place. This course explores the consulting process, based primarily on Peter Block's book, Flawless Consulting. Through minimal lecture, lively discussions, and exercises, participants will learn how to add value to their organization by building productive working relationships with clients.
This course is currently not scheduled. To be notified of the next available date, provide us with your information. Or, if you have a group to train, contact us to learn more about bringing this course onsite to your location:
Call: 1.800.288.7246 (US ONLY) or +1.978.649.8200
eMail: onsitetraining@corpedgroup.com
Form: Corporate Onsite Request Form