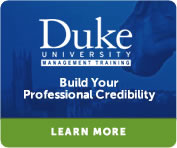 Select one or more from the list below:
«
Back
|
Home
»
Courses
Business Management Skills for Project Managers
Project managers are in a position to influence the financial performance of their organizations. Project managers also have a need to communicate the value of their projects to senior managers in a common language. This course helps project managers understand common business financial terms, and assess how their projects influence organizational performance.
This course is part of the Project Management Advanced Certificate Program, a program geared toward project managers looking to obtain the skills that are expected of them in order to advance to higher-level project management positions.
For scheduling information beyond the above dates, call 1.800.288.7246 (US Only) or +1.978.649.8200.
Please note that prices are subject to change without notice.