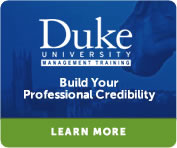 Select one or more from the list below:
«
Back
|
Home
»
Courses
Managing Successful Negotiations
Whether knowingly or not, people negotiate everyday when they haggle over price, decide which movie to see, discuss the conditions of employment, or settle terms and conditions of a contract. The program is designed to help you acquire the necessary concepts, skills, and techniques to prepare for and conduct successful negotiations.
For scheduling information beyond the above dates, call 1.800.288.7246 (US Only) or +1.978.649.8200.
Please note that prices are subject to change without notice.