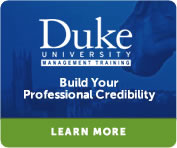 Select one or more from the list below:
«
Back
|
Home
»
Courses
Strategies for Managing Change: Managing People in a Changing Environment
As organizations develop new strategies to survive and grow, implementation of these changes requires employees to develop new knowledge, skills, and processes. This 2-day course focuses on the process of change, and what is required to build commitment to change within the organization. Discussion, analysis, and exercises will help you learn to manage change effectively, and become a more skillful change agent.
This course is currently not scheduled. To be notified of the next available date, provide us with your information. Or, if you have a group to train, contact us to learn more about bringing this course onsite to your location:
Call: 1.800.288.7246 (US ONLY) or +1.978.649.8200
eMail: onsitetraining@corpedgroup.com
Form: Corporate Onsite Request Form