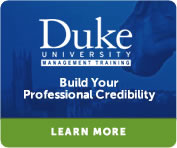 Select one or more from the list below:
«
Back
|
Home
»
Courses
Improving Supervisory & Management Skills
This course provides you with both useful ideas and practical tools to improve your overall supervisory and management effectiveness. Mid-level and front-line managers and supervisors are the driving force for improving performance, productivity, quality, and innovation in today's organizations. Whatever pressures and opportunities face you, this seminar will provide you with useful new skills and insights.
This course is currently not scheduled. To be notified of the next available date, provide us with your information. Or, if you have a group to train, contact us to learn more about bringing this course onsite to your location:
Call: 1.800.288.7246 (US ONLY) or +1.978.649.8200
eMail: onsitetraining@corpedgroup.com
Form: Corporate Onsite Request Form