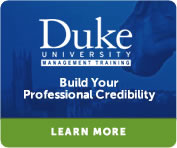 Select one or more from the list below:
«
Back
|
Home
»
Courses
Developing Into a Powerful Leader
Leadership is a critical skill that every professional should possess to be successful in today's work environment. Developing your leadership skills goes beyond traditional assessments of your qualities and application of those results. New leadership concepts build on those insights help you uncover your mind-set, develop the passion you possess toward leadership and consequently become more productive and successful. This course will teach the practical skills you can apply to enhance your leadership skills. Recognizing who you are as a person is only the first step to developing into a powerful and effective leader.
This course is currently not scheduled. To be notified of the next available date, provide us with your information. Or, if you have a group to train, contact us to learn more about bringing this course onsite to your location:
Call: 1.800.288.7246 (US ONLY) or +1.978.649.8200
eMail: onsitetraining@corpedgroup.com
Form: Corporate Onsite Request Form