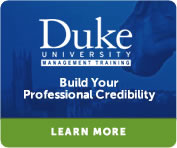 Select one or more from the list below:
«
Back
|
Home
»
Courses
The neXt Factor-Executive Presence
Today's business climate is fast-paced and ever-changing. Successful organizations recognize one of the best ways to gain and maintain competitive advantage in their markets is to develop self-confident leaders capable of dealing with unpredictable and fluid situations. These are the hallmarks of executive presence. The good news is that, unlike intellectual intelligence, these competencies can be learned.
The neXt Factor is an interactive program designed for participants seeking to develop skills to boost impact in their current role and position them to be successful for their neXt leadership opportunity.
This course is currently not scheduled. To be notified of the next available date, provide us with your information. Or, if you have a group to train, contact us to learn more about bringing this course onsite to your location:
Call: 1.800.288.7246 (US ONLY) or +1.978.649.8200
eMail: onsitetraining@corpedgroup.com
Form: Corporate Onsite Request Form