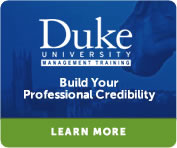 Select one or more from the list below:
«
Back
|
Home
»
Courses
Project-based Cost Benefit Analysis and ROI
Projects use scarce organizational resources and therefore care must be exercised in choosing projects that benefit the organization. In this course, participants will learn how to justify the project's expenses in relation to the value it creates for the organization. Participants will come to understand the different elements of a sound business case and how to write a convincing case by evaluating a projects return on investment based on quantitative measures. A variety of financial techniques necessary to quantify costs and benefits are explained, including present-value, return-on-investment (ROI), and break-even. In addition, a number of practical forecasting techniques for revenue, expenses, and project growth are presented. Finally, a number of decision-making strategies are shown that help in making informed project decisions. The participants will leave with a thorough understanding of how to write a detailed yet concise business case.
This course is currently not scheduled. To be notified of the next available date, provide us with your information. Or, if you have a group to train, contact us to learn more about bringing this course onsite to your location:
Call: 1.800.288.7246 (US ONLY) or +1.978.649.8200
eMail: onsitetraining@corpedgroup.com
Form: Corporate Onsite Request Form