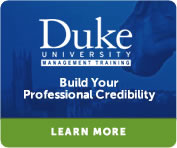 Select one or more from the list below:
«
Back
|
Home
»
Courses
Leadership and Communication Skills for Project Managers
Leadership is about change and moving forward, and successful project managers are effective communicators that know when and how to be a leader. Each person and each project requires a slightly different style and approach. This workshop will teach project managers what leadership is, the role it can play in projects and organizations, and the techniques to foster leadership and communication skills. The organizational culture and communication needs of a project are examined and the impact they have. A variety of current leadership models and tools relevant to project managers will be learned.
This course is currently not scheduled. To be notified of the next available date, provide us with your information. Or, if you have a group to train, contact us to learn more about bringing this course onsite to your location:
Call: 1.800.288.7246 (US ONLY) or +1.978.649.8200
eMail: onsitetraining@corpedgroup.com
Form: Corporate Onsite Request Form