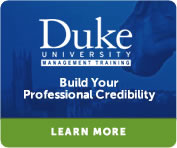 Select one or more from the list below:
«
Back
|
Home
»
Courses
Working Successfully with Others: Managing Conflict in the Workplace
This class will focus on those interpersonal skills that are essential in establishing and maintaining mutual satisfying and rewarding professional and personal relationships. This course will identify a number of approaches effective in both resolving and managing conflict.
Participants will learn the importance of understanding their behavioral preferences by taking the DiSC profile evaluation. They will then have the opportunity to relate these insights to the ways in which they might modify their behaviors to achieve greater trust and rapport in their workplace relationships.
Class generated real world conflict situations will be analyzed through a role-play and debriefing process. These exercises will allow participants to develop action plans.
Prerequisites
None
This course is currently not scheduled. To be notified of the next available date, provide us with your information. Or, if you have a group to train, contact us to learn more about bringing this course onsite to your location:
Call: 1.800.288.7246 (US ONLY) or +1.978.649.8200
eMail: onsitetraining@corpedgroup.com
Form: Corporate Onsite Request Form