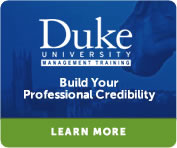 Select one or more from the list below:
«
Back
|
Home
»
Courses
Effective Peer Mentoring: Building Collaborative Learning Relationships
In an increasingly competitive and fast-place global economy, it is essential that organizations leverage the knowledge of their own seasoned professionals. Peer to peer mentoring is one way to make sure that knowledge is neither lost nor constantly recreated. In this program, we will focus on the approach and skills necessary to build collaborative learning relationships.
This course is currently not scheduled. To be notified of the next available date, provide us with your information. Or, if you have a group to train, contact us to learn more about bringing this course onsite to your location:
Call: 1.800.288.7246 (US ONLY) or +1.978.649.8200
eMail: onsitetraining@corpedgroup.com
Form: Corporate Onsite Request Form