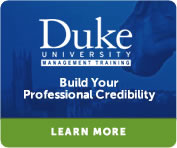 Select one or more from the list below:
«
Back
|
Home
»
Courses
Effective Problem-Solving and Decision Making: A Creative and Collaborative Process
day(s)

Duration

MDP1012

Course Code
Problem resolution is a "three step" process.
Step one explores the boundaries of the problem and defines it; step two examines potential solutions and establishes criteria for the logical selection of a solution. Step three evaluates solutions on the criteria to identify the solution most consistent with the desired outcome or objectives.
This program will use this "three step" approach to not only define a reasoned process, but to also deal with the emotional impact, brought on by the human element.
This course is currently not scheduled. To be notified of the next available date, provide us with your information. Or, if you have a group to train, contact us to learn more about bringing this course onsite to your location:
Call: 1.800.288.7246 (US ONLY) or +1.978.649.8200
eMail: onsitetraining@corpedgroup.com
Form: Corporate Onsite Request Form