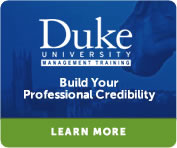 Select one or more from the list below:
«
Back
|
Home
»
Courses
Managing Employee Performance Effectively
When it comes to developing talent providing quality feedback is the most underutilized "tool" in any manager's toolkit. Most managers are able to intuitively assess and describe employee performance issues, but what is difficult is communicating this information to the employee. Nearly all managers dread initiating these conversations and often avoid them, particularly if they have a congenial relationship with the employee otherwise. Frequently, the area for development relates to difficult to quantify behaviors. Discussing these issues with an employee can seem out of the question — after all, what if the relationship between the manager and employee is somehow damaged? The underlying problem is the inability to translate what is "known" into effective words that are both comfortable to say and will have the right effect on the employee.
The Performance Continuum Feedback® Method (PCFM) represents a new direction from established feedback approaches since it bypasses the need to raise negative performance examples. Sometimes we refer to these conversations as "constructive" criticism. However, even with the best of intentions, the message usually feels confrontational thus causing most employees to react defensively and causing most managers to avoid the discussion in the first place! Utilizing the PCFM, performance messages come across as honest yet non-threatening. This allows the feedback receiver to remain open to listening to the information as opposed to engaging in a confrontational exchange with the person delivering the message. Avoidance of defensive reactions enables managers and employees to come to terms more quickly around developmental solutions and goals.
This course is currently not scheduled. To be notified of the next available date, provide us with your information. Or, if you have a group to train, contact us to learn more about bringing this course onsite to your location:
Call: 1.800.288.7246 (US ONLY) or +1.978.649.8200
eMail: onsitetraining@corpedgroup.com
Form: Corporate Onsite Request Form