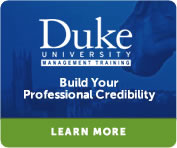 Select one or more from the list below:
«
Back
|
Home
»
Courses
Difficult Performance Discussions Made Easier
Most managers are able to intuitively assess and describe employee performance issues, but what is difficult is communicating this information to the employee. Nearly all managers dread initiating these conversations and often avoid them whenever possible causing performance issues to worsen over time. Frequently, the area for development relates to behaviors which are difficult to quantify: interpersonal skills, personality traits, motivation and attitude. The underlying problem is the inability to translate what is "known" into words that are both comfortable to say and effective. Using a proven approach called the Performance Continuum Feedback Method, learn to create messages that bypass the need to raise negative performance examples during feedback discussions. Learn to craft messages designed to enable employees to remain open to feedback and amenable to change, as opposed to being drawn into a confrontational exchange.
This course is currently not scheduled. To be notified of the next available date, provide us with your information. Or, if you have a group to train, contact us to learn more about bringing this course onsite to your location:
Call: 1.800.288.7246 (US ONLY) or +1.978.649.8200
eMail: onsitetraining@corpedgroup.com
Form: Corporate Onsite Request Form