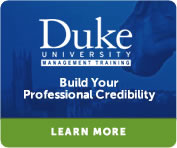 Select one or more from the list below:
«
Back
|
Home
»
Courses
Strategic Success: New Approaches, Methods, and Techniques for Planning Effective Processes
Ready to take strategy to the next level? In this fast-paced, executive-level course, we look at emerging best practices, new tools and techniques, and innovations in strategy and strategic planning. We draw on the best selling book Blue Ocean Strategy and cutting-edge articles such as Stop Making Plans; Start Making Decisions to identify practical, impactful strategic processes that work in the reality of today's complex, rapidly-changing organizations.
This course is currently not scheduled. To be notified of the next available date, provide us with your information. Or, if you have a group to train, contact us to learn more about bringing this course onsite to your location:
Call: 1.800.288.7246 (US ONLY) or +1.978.649.8200
eMail: onsitetraining@corpedgroup.com
Form: Corporate Onsite Request Form