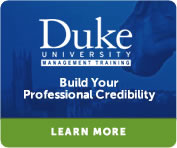 Select one or more from the list below:
«
Back
|
Home
»
Courses
Leading and Developing High Performing Teams (Virtual)
day(s)

Duration

day(s)

Duration

4 3-hr sessions (12 hrs.)

Duration

1.2 CEU/12 PDU/Credits/Units

MDV645

Course Code
All class schedules are in Eastern Time.
Teams are needed because the world we live in requires constant experimentation, a continual response to changing conditions. In our exploration of new conditions and possibilities, we have to rapidly integrate new partners and different work disciplines. The team structure adapts most easily to changing conditions and has the greatest potential for creative solutions and new approaches to work challenges.
This interactive course provides a successful team development process that facilitates the development of a new team or the revitalization of an existing team. Whether your team is an ongoing work group, or a special project based team of limited duration, you will rapidly increase its effectiveness with the use of these teamwork tools and skills.
Prerequisites
None
For an updated schedule for this course, please call us at 1.800.288.7246.