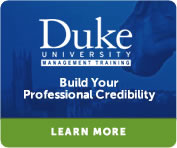 Select one or more from the list below:
«
Back
|
Home
»
Courses
Corporate Training in Chicago
Corporate Education Group's leading professional development courses and certificate programs are available in open-enrollment classrooms in Chicago for professionals who prefer training in the traditional classroom.
Build Professional Credibility
Register for a Project Management ,Business Analysis or Business Process Management Certificate Program through our alliance with Duke University and you will earn a joint certificate from both CEG and Duke University Management Training. You will stand out among your peers and build professional credibility, while deepening your expertise with quality training approved and recognized by one of the world's most prestigious higher-education institutions. Learn more about the alliance.
You can also take many of our courses and certificate programs virtually. View CEG's schedule of virtual courses.
Below is the schedule of classes for Metro Chicago. You may register for classes that are part of a certificate program individually, but you will only receive a certificate upon successful completion of the entire program.
Business Process Management Certificate Program
5 Day(s) Duration
35 PDU / 3.5 CEU
Certificate Program Fee: $4,525/$5,275*

* CEG/Duke University Management Training Joint Certificate Program Pricing

Denotes the courses that are part of the certificate program
Business Process Management Courses
Project Management Courses