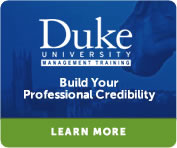 Select one or more from the list below:
«
Back
|
Home
»
Consulting
Project Management Online Assessment
In many cases, your team's strengths and weaknesses are hidden because they can only be viewed through the lens of group dynamics, corporate culture, and measurable project goal completions. Proficiency in specific project management technical skills, leadership skills, and necessary interpersonal skills must be evaluated carefully and in isolation to ensure mastery.
Corporate Education Group's Project Management Online Skills Assessment is designed to provide the accurate, in-depth insights that you need to achieve significant performance improvements within your organization.
The Project Management Online Skills Assessment is derived from Corporate Education Group's Project Management Competency Model, which is based in part on the Project Management Institute®'s (PMI®'s) Competency Development Framework; however, Corporate Education Group's model also includes a business/ leadership component, which are essential contributing competencies for a well-rounded and effective project manager.
Our self-paced online assessment looks at three distinct competency measures:
Technical — includes the ten core Knowledge Areas identified by the Project Management Institute's® (PMI's®) Guide to the Project Management Body of Knowledge® (PMBOK® Guide)
Personal — includes influence, self confidence, flexibility, action orientation, organizational awareness, and a strong interpersonal acumen
Business and leadership — includes a big picture focus, political savvy, strategic positioning, business operations knowledge, and the ability to build relationships
Assessments are used by our clients for a variety of reasons, including:
Broadening employees' own awareness of their strengths and areas for improvement
Defining role requirements and accountability
Discovering hard to reveal skill gaps for current and newly-hired project managers for:

Assigning individuals to project teams and improving resource allocation
Determining skill levels (beginner, intermediate and advanced), procedures, and project management protocols within an organization
Benchmarking a group of project managers against their peers
Defining skill-gap intervention plans

Evaluating readiness for the CAPM® or PMP® Certification Exams
Creating learning paths and career paths for project managers within organizations
Understanding hiring, training, and consulting needs
Measuring overall effectiveness of training programs as well as gauging individual, group, and organizational skill-gap improvement over time
Question Breakdown by Competency
Corporate Education Group's Project Management Online Skills Assessment is comprised of 144 multiple-choice questions drawing from a pool of 162 questions. The assessment randomizes the order each question is presented, and then randomizes the answer choices for each question. This triple-randomization process creates an individualized assessment for each participant. No participant will receive the same assessment. The assessment may be taken in stages, thus giving the ability to leave the assessment at any point and return to complete it at a later time. Below is a detailed breakdown of questions by competency:
| Competency | Amount (#) in Question Pool | Used in Assessment |
| --- | --- | --- |
| Integration | 12 | 10 |
| Scope | 11 | 10 |
| Time | 13 | 10 |
| Cost | 14 | 10 |
| Quality | 10 | 10 |
| HR | 11 | 10 |
| Communications | 11 | 10 |
| Risk | 13 | 10 |
| Procurement | 13 | 10 |
| Stakeholder | 10 | 10 |
| Enterprise View | 18 | 18 |
| Business Acumen | 8 | 8 |
| Organizational Savvy | 6 | 6 |
| Productive Work Environment | 12 | 12 |
| Total | 162 | 144 |
Rating Scale
Each individual's competencies are rated using the following scale (organizations can also define their own rating scale if they choose):
90% – 100% Expert: Coaches and supports other utilizing breadth of experience or specialized depth of expertise
76% – 89% Proficient: Exercises a breadth of knowledge and skills to address complex situations without guidance
50% – 75% Functional: Regularly applies knowledge or skills to routine situations, occasionally requiring guidance
20% – 49% Aware: Possesses knowledge and is familiar with concepts, but has not applied them to a real situation
0% – 19% Unaware: Does not recognize this knowledge or skill dimension
Ratings can then be prioritized by individual, group, or organizational levels to help target training efforts, set employee improvements plans, and ensure your organization has the right business processes and systems in place.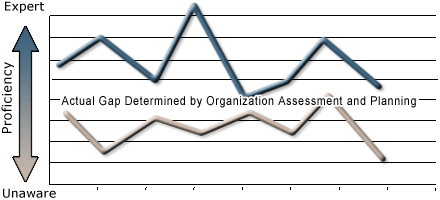 Sample Questions
Reports
The online objective assessment is hosted on the QuestionMark platform and reporting includes: an individual report, a rolled up group summary report, and an optional executive summary and recommendations report. Data can either be attributed to an individual or that information can be kept confidential. We can also capture additional information such as individual's title/role, business unit, region, etc. for further analysis of results.
Sample Reports
Executive Summary (Optional)
After the assessment has been deployed and results tabulated, a Subject Matter Expert (SME) will analyze the data from the online objective assessment to derive what the strengths and weakness are of the business analysts and develop a training solution plan that will meet the client's needs. For additional insights; focus groups may also be conducted and those findings threaded within the analysis. The report will be 5-10 pages and includes the following:
Executive Summary
Background
Methodology
Results Analysis as well as Assessment Summary Table
Rating Scale Summary Table and Analysis
Rating by Knowledge Area Summary Table and Analysis
Common Themes
Recommendations including a detailed assessment of recommended learning objectives and pathways
Individual
I would like to take the assessment now.
Register
Enterprise
We have a group of people who need to take the assessment.
For enterprise pricing options or for a free demo call 1.800.288.7246 or +1.978.649.8200; or, email assessments@corpedgroup.com.